Does Rehman Enterprises Ensure Highest Quality in Hand Knotted Rugs?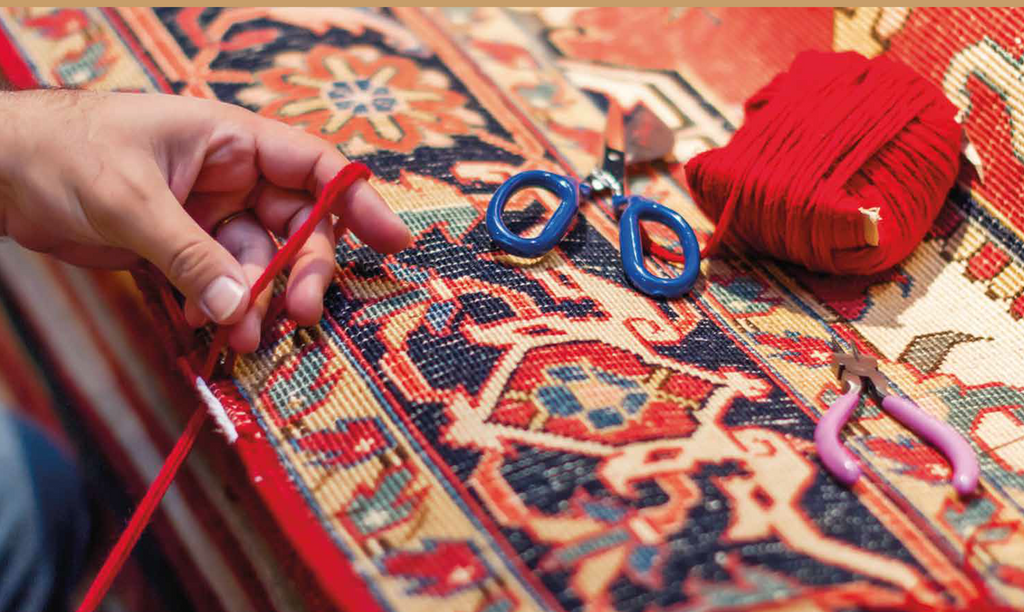 In the ever-evolving world of interior decor, certain elements continue to stand the test of time, transcending trends and fads. One such timeless element is the hand knotted rug. These exquisite pieces of art not only add warmth and style to your living spaces but also serve as a canvas of self-expression. If you're in search of high-quality custom rugs and hand knotted rugs USA, look no further than Rehman Enterprises.
The Artistry of Hand knotted Rugs:
Hand knotted rugs are a testament to the skill and craftsmanship of artisans. These are not just floor coverings; they are works of art that bear the mark of dedication and expertise. Each rug is meticulously woven, knot by knot, resulting in a durable and visually stunning piece that can last for generations.
The Intricate Designs:
One of the defining features of hand knotted rugs is the intricacy of their designs. From traditional patterns that have been passed down through generations, these rugs offer an incredible range of visual expressions. The modern and abstract designs that embrace contemporary tastes have been crafted in these rugs.  Vibrant colors, detailed motifs, and a sense of history are all woven into these remarkable pieces.
The Durability Factor:
Hand knotted rugs in the USA, are built to last. The process of creating these rugs ensures that they can withstand the test of time. Unlike their machine-made counterparts. Hand knotted rugs can be passed down from one generation to the next. This makes cherished heirlooms that tell a story of artistry and craftsmanship.
Custom Rug Manufacturers:
Rehman Enterprises takes the concept of rug customization to a whole new level. Your home is a reflection of your personality, and your rugs should be no different. Rehman Enterprises is one of the best custom rug manufacturers. Allowing you to choose the size, design, and color scheme that best suits your space.
Size Matters:
Our custom rugs come in various sizes, ensuring a perfect fit for any room in your home. Whether you need a small rug to accent a cozy corner or a large rug to anchor your living room, we've got you covered. Our skilled craftsmen meticulously hand-knot each rug to your specifications.
Design Your Dream Rug:
With our design team's expertise, you can bring your dream rug to life. You've always envisioned a rug that echoes the colors of your favorite painting or one that harmonizes with the elements in your room. From traditional to contemporary, Rehman Enterprises can make it happen.
Choose Your Colors:
The color palette of your rug is vital in creating the right ambiance in your space. With our custom handmade rugs USA, you have the freedom to choose colors that resonate with your interior decor. This means your rug will not just blend with your surroundings; it will enhance them.
High-Quality Custom Rugs:
Quality is our utmost priority at Rehman Enterprises. Our hand knotted rugs USA are made from premium materials, ensuring longevity and durability. You can trust that your investment in our high quality custom rugs will stand the test of time.
Premium Materials:
Our rugs are crafted from the finest materials, including wool, silk, and cotton. These materials not only enhance the aesthetics but also provide comfort and softness underfoot. When you step on a Rehman Enterprises rug, you experience both luxury and quality.
At Rehman Enterprises, our rugs are meticulously handcrafted from the most exquisite materials, including wool, silk, and cotton. These carefully chosen materials not only elevate the visual appeal of our rugs but also deliver a plush and comfortable feel underfoot. Stepping onto a Rehman Enterprises rug is a tactile experience that seamlessly combines luxury and quality.
Expert Craftsmanship:
Our team of skilled artisans employs traditional techniques that have been passed down through generations. These craftsmen bring a level of dedication and skill to their work that ensures every rug is a masterpiece. The result is a rug that is not just a floor covering but a work of art.
Their unwavering commitment and exceptional craftsmanship for wool area rugs for bedroom to ensure that each rug they create transcends the realm of mere floor coverings to become a true work of art. The end result is a rug that is not just a utilitarian object but a masterpiece in its own right.
Rug Suppliers in USA:
Convenience matters when you're in search of the perfect rug. Rehman Enterprises, as one of the leading rug suppliers in USA, offers hassle-free access to exquisite hand knotted and custom rugs. We take pride in our prompt and reliable delivery services, ensuring that your rug reaches your doorstep in pristine condition.
Customer Satisfaction Guaranteed:
Your satisfaction is our top priority. We believe in the quality of our rugs, and to back it up, we offer a customer satisfaction guarantee. If you are not satisfied with your purchase, we will work with you to make it right.
Rehman Enterprises offers a gateway to timeless elegance in home decor through hand knotted rugs. These intricately crafted pieces, representing the pinnacle of artisanal skill, bring a touch of history, vibrant designs, and remarkable durability to any space. What sets Rehman Enterprises apart is its commitment to customization, allowing customers to choose the size, design, and colors of their dream rug. These custom rugs are not only visually stunning but also made from premium materials, ensuring both luxury and longevity. As one of the top leading custom rug manufacturers in the USA, Rehman Enterprises provides convenience and satisfaction, making your home extraordinary with their exceptional craftsmanship.
Conclusion:
In the world of interior decor, the right rug can transform a space from ordinary to extraordinary. Rehman Enterprises is top rug suppliers in USA, with its exquisite hand knotted rugs and custom rug manufacturing expertise, stands as your trusted partner in achieving this transformation. Our commitment to quality, customization, and customer satisfaction makes us a cut above the rest.
Don't miss the opportunity to enhance your living spaces with the elegance of hand knotted rugs from Rehman Enterprises. Contact us today to help you create the rug of your dreams.